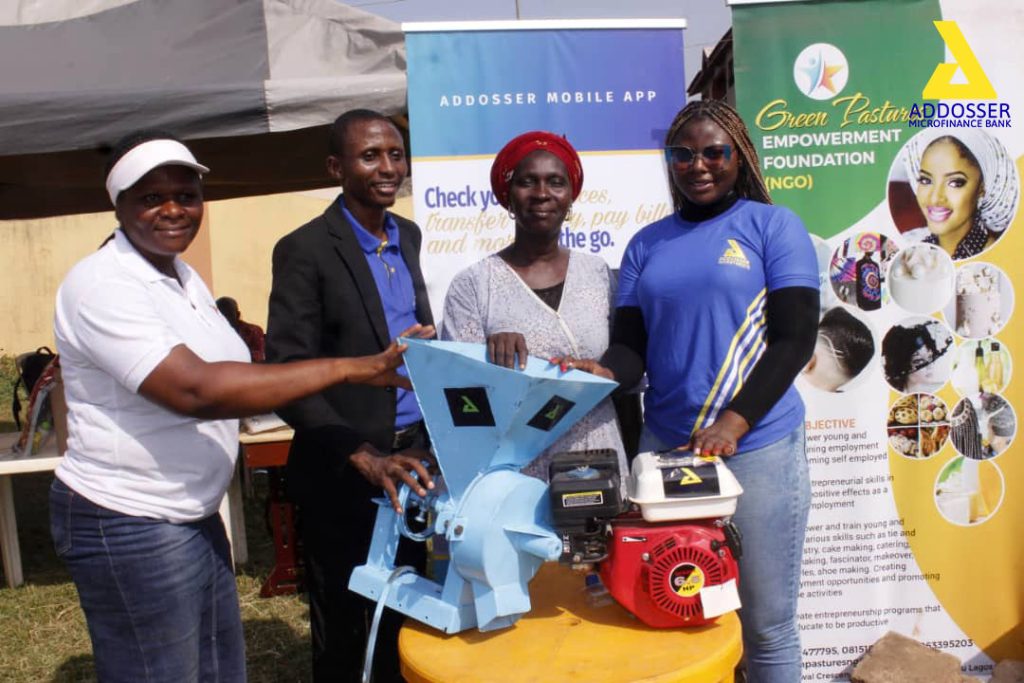 As an institution that is keen on supporting the female gender through our line of empowerment programs, gender-specific financial products and services, Addosser has yet again sponsored 200 women to a skill acquisition program focused on helping women start their own businesses and become financially independent.
The Bank recently partnered with Green Pastures Empowerment Foundation (a Non-Governmental Organization) on a vocational skills training for women in Agbede community and environs in Ikorodu tagged 'Empowering Eve'.  The program focused on empowering young and middle-aged females with easy-to-grasp vocational skills in a two weeks long training in areas such as; Event decoration, Makeup artistry & Gele tying, Fashion design, Hair styling,  Confectionery production, Household chemical production (soap, disinfectants, balms, etc), Canteen services, Hat making, Pepper grinding services, just to mention a few.
The initiative, which was fully hands-on, provided adequate knowledge and practical expertise for participants to be able to start up their own businesses and begin generating income immediately. In order to facilitate this process, Addosser MfB provided brand new working tools and materials to enable participants to have the required tools and materials to enhance their journey to becoming entrepreneurs. Some of these items includes: Pastry & baking materials, Sewing machines, Household chemicals production toolkit, Makeup kits, Catering utensils and Gas cylinder, Hair styling tools, Hat making materials (Fascinator), Pepper grinding machine, and so on.
The two weeks event which began on the 14th of November came to a close with a grand finale on the 25th of November at Ikorodu town where Addosser MFB was represented by the Head of Strategy and Partnerships, Oluwaseun Adekanbi alongside the Corporate Communications team – Ayowole Afolabi and Habeebat Oyebanji  presented toolkits to the participants.
One of the beneficiaries, Miss Rose Friday who went home with a brand new sewing machine was brought to tears with the laudable item she received. She expressed her deepest appreciation to Addosser MFB and how this will go a long way in helping her start her business immediately.
Oluwaseun Adekanbi, further encouraged the women to leverage on the skills and knowledge acquired during the training to start and expand their  businesses. Addosser  MFB also used the opportunity to provide financial advisory to the participants. The bank encouraged participants to open a savings accounts to enable them better manage their finances better and also as a way of commencing relationships with the bank in order to be able to access working capital loans for their businesses in the future.
In all, Addosser MFB  continuously remains at the forefront of empowering and impacting women, accelerating female entrepreneurs with financial and business skills through its three focus areas of providing access to expertise, access to finance, and access to the market in a bid to help them reach their business and personal goals.